Discover the joy of Advent
Do you remember waking up each morning and rushing to your Advent calendar to look behind the door and see what surprise awaited you there? Remember how exciting it was to count down to Christmas with a gift each day?
This year, Buckner International is offering you a special way to recreate that Christmas Day anticipation with activities and devotions to connect with your family while looking forward to Christ's birth.
We know the year has been hard – and maybe more than ever we realize how important it is to stay connected with our family and friends. But finding meaningful ways to do so can be daunting.
The holiday stress shouldn't cause you to miss out on sweet moments with your family.
That's why we've put together the FREE digital 2021 Buckner Advent Guide and Calendar.
Every day of Advent will celebrate the themes of hope, peace, love and joy through a short devotion. Then click on the digital calendar to discover a fun surprise to share with your family.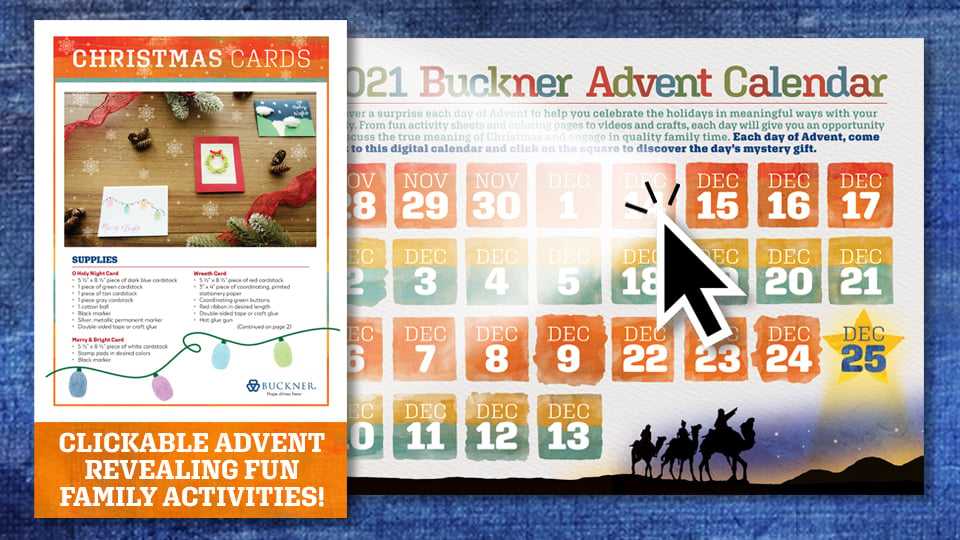 From activity sheets and coloring pages to videos and crafts, each day will give you an opportunity to discuss the true meaning of Christmas and engage in quality time with your family.
We know how important it is to share the joy of Christmas with your family so the digital 2021 Buckner Advent Guide and Calendar is our gift to you.
Both young and old will enjoy the fun surprises each day Advent has to offer and will give you and your family many opportunities to rediscover the joy of Christmas.
Get your FREE
2021 Buckner Advent Guide now: